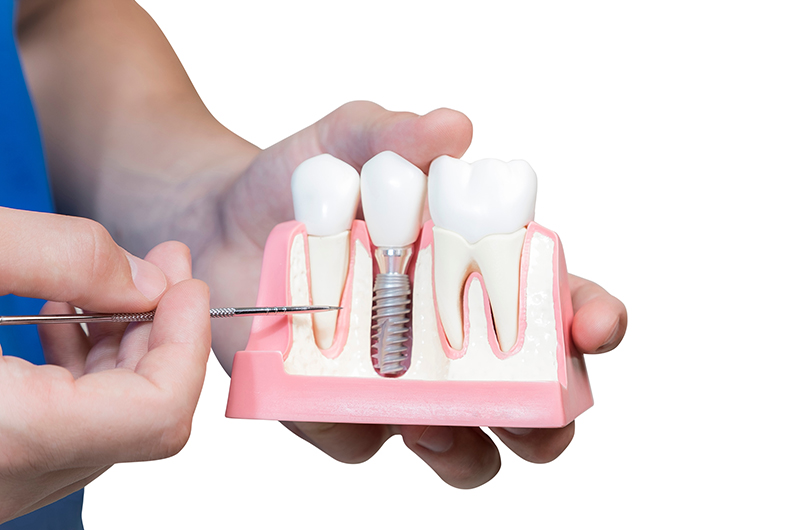 Dental Implants For a Natural Tooth Replacement
Dental implants are a great tooth replacement option, whether you need to replace a single tooth or a full mouth of missing teeth. They look, feel, and function like your own teeth.   Thanks to our team of experienced dentists, you have lots of choices for your dental implant. They can be used with a variety of dental restorations, including dental crowns, dental bridges, or dentures.
With some dental options, you may even be able to get tooth replacements on the same day you get your dental implant!
To find out more about dental implants, call our office at (614) 888-0377 to schedule your appointment.
Dental Implants 101
A dental implant is a small but strong titanium rod that our dentists implant in your jawbone. The bone then grows around the implant, so it functions just like a replacement tooth root. We'll attach a piece of hardware called an abutment to your dental implant, and then we'll attach the restoration of your choice – a dental crown, bridge, or dentures – to the abutment.
Many Advantages of Dental Implants
One of the biggest advantages of dental implant is their natural look and feel. You may forget you even have them, and no one else will notice! Your brushing and flossing routine can stay the same, and you'll be able to eat all of your favorite foods.
Other advantages include:
No slippage. Because dental implants are embedded in your jaw, your teeth won't shift or move in your mouth. No more messy adhesives to keep your teeth in place!
Easy on surrounding teeth. Dental implants with crowns or bridges won't affect your other teeth. We won't need to modify your adjacent teeth, as we do for a conventional dental bridge.
Better bone quality. Because a dental implant stimulates your jawbone much like your own teeth would, you'll retain more bone density than you would with dentures or other tooth replacement options.
Durability. With proper care, your dental implants should last a lifetime!
Bite power. Thanks to their stability, you'll enjoy 90 percent of your natural bite with dental implants.
Are Dental Implants Right For You?
The first step in determining if dental implants are right for you is a free consultation with our dental team. Several of our doctors have undergone extensive implantology training. They can answer all of your questions.
They'll examine you using the latest dental technology, including:
Digital X-rays
High-powered microscopes
Intraoral cameras
Among the factors our doctors will consider are:
Dental problems we want to solve
Your oral health
Your overall health history
Cost